Opening Day Ceremony, Arizona House of Representatives | Photographer: Ryan Thurman
How did I come to stand before the Arizona House of Representatives in Phoenix, on January 9, 2023?
And why am I amazed?
Michael Hunter a good friend, of many years, is Chief of Staff to the House Speaker, Ben Toma. 
Michael  told him my story and he asked to meet me. We met and after our conversation he invited me to be the guest speaker at the Opening Day ceremony.
Why did he invite me? I am a small, unknown, 90 year old woman? Usually the speech is given by a sports personality or some famous figure in the arts or academia.
Ben Toma came to the USA as a 9 year old child refugee from Romania. He asked me to speak because of my personal encounter with evil and our shared desire for reconciliation.
Today in Arizona, in Washington and in so many other nations there is political turmoil. Hatred, contempt, violent speech are rampant.
Before I began to speak on January 9, the Assembly watched a short video of selected footage from our recent visit to Germany.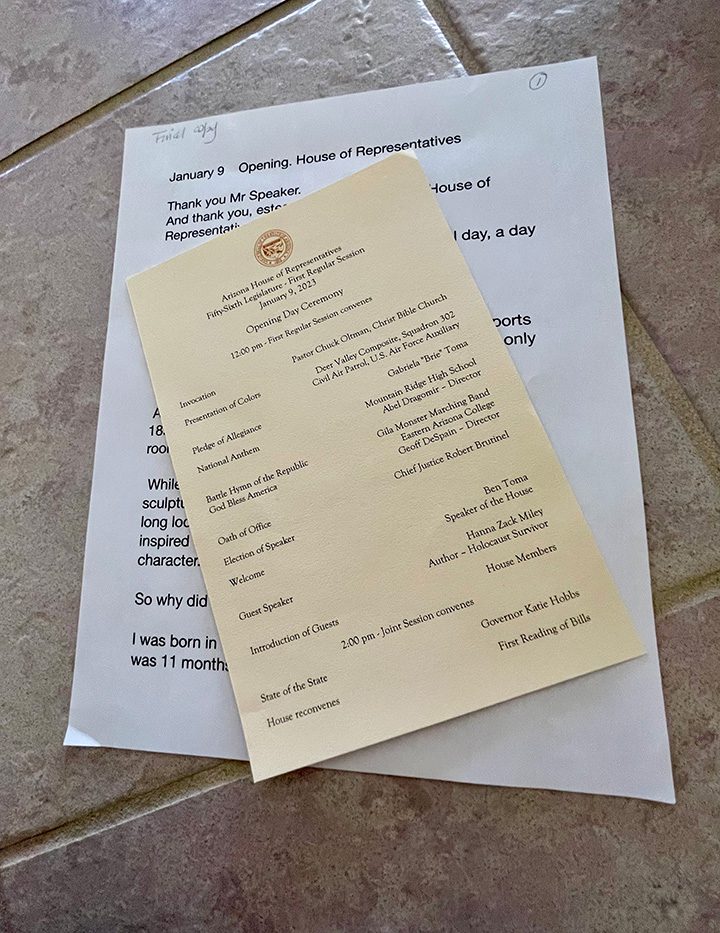 Hanna's speech at the Arizona House of Representatives 
A clip from Hanna's upcoming documentary
Early the next morning I sit amazed in Michael Hunter's garden facing the Romanian Ambassador.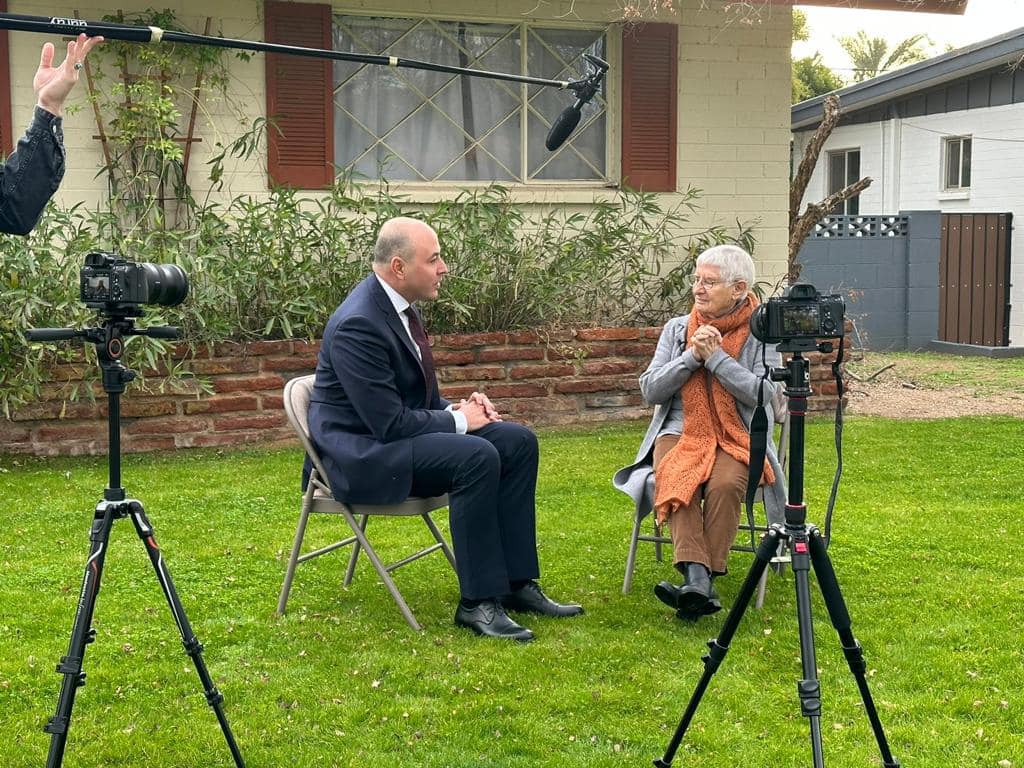 How did that happen?
At the Opening Day Ceremony, the day before, Ambassador Andrei Muraru and I had been assigned seats next to each other. 
As we shook hands and chatted I learned that he has a  PhD in Romanian Holocaust studies and is an adviser to Yad Vashem and the Holocaust Memorial Museum in Washington DC.  I asked him if we could film a short interview for our documentary. 
Early the next morning just before he is whisked away to the airport, we face each other and our hearts connect.
Today he posted a photo of our conversation in the garden on FB, ending with a quote from Elie Wiesel, the Romanian Holocaust survivor:
Once you bring life into the world, you must protect it. We must protect it by changing the world.
How can hearts be changed?
*This blog post title, "I Stand Amazed", are the opening words of a song that I remember from the 1960's when my heart began to be changed.