A German Reckons with History and Home
Sometimes a book finds you, rather than you discovering a good read that satisfies your curiosity.
Nora Krug's book Belonging. A German Reckons with History and Home did just that.
How did Belonging gain my attention?
George and I enjoy watching YouTube documentaries together. One after the other, we were absorbed by a series of short talks by the historian, Timothy Snyder, titled, Tyranny. Twenty Lessons from the Twentieth  Century,  He read and commented on each chapter and mentioned a new graphic edition, illustrated by Nora Krug. We buy the book.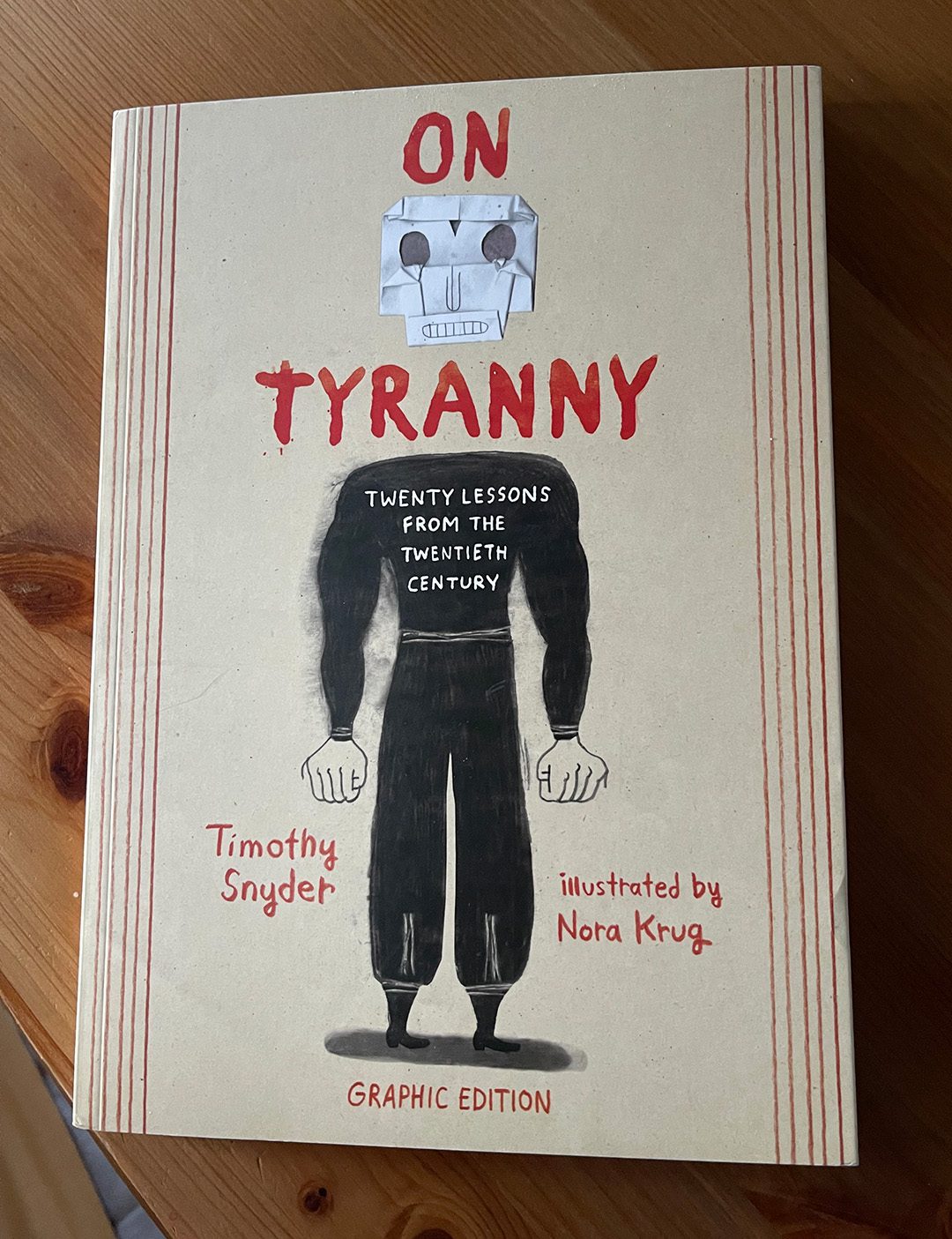 On Tyranny: Twenty Lessons From The Twentieth Century
I am startled by her cover design, the tiny feet that cannot possibly support the threatening black clad body,  muscular arms and ominous big fists. Where is the head, the face? 
Lacking all humanity, folded white paper, black holes for eyes and I think about the quote, "the eyes are the window to the soul".
 I googled Nora Krug…What is her story and why would Timothy Snyder ask her to illustrate his book titled Tyranny?
A German married to a Jew, born 1977, in Karlsruhe,   an associate professor in the Illustration Program at Parsons School of Design, NY.
Curious about her ability to illuminate the meaning of the text, I listen to a podcast where she explains her process in creating the graphics for a book and I remember her words, Never the medium, but the story. 
Her own story, her own reckoning with the past is compelling reading.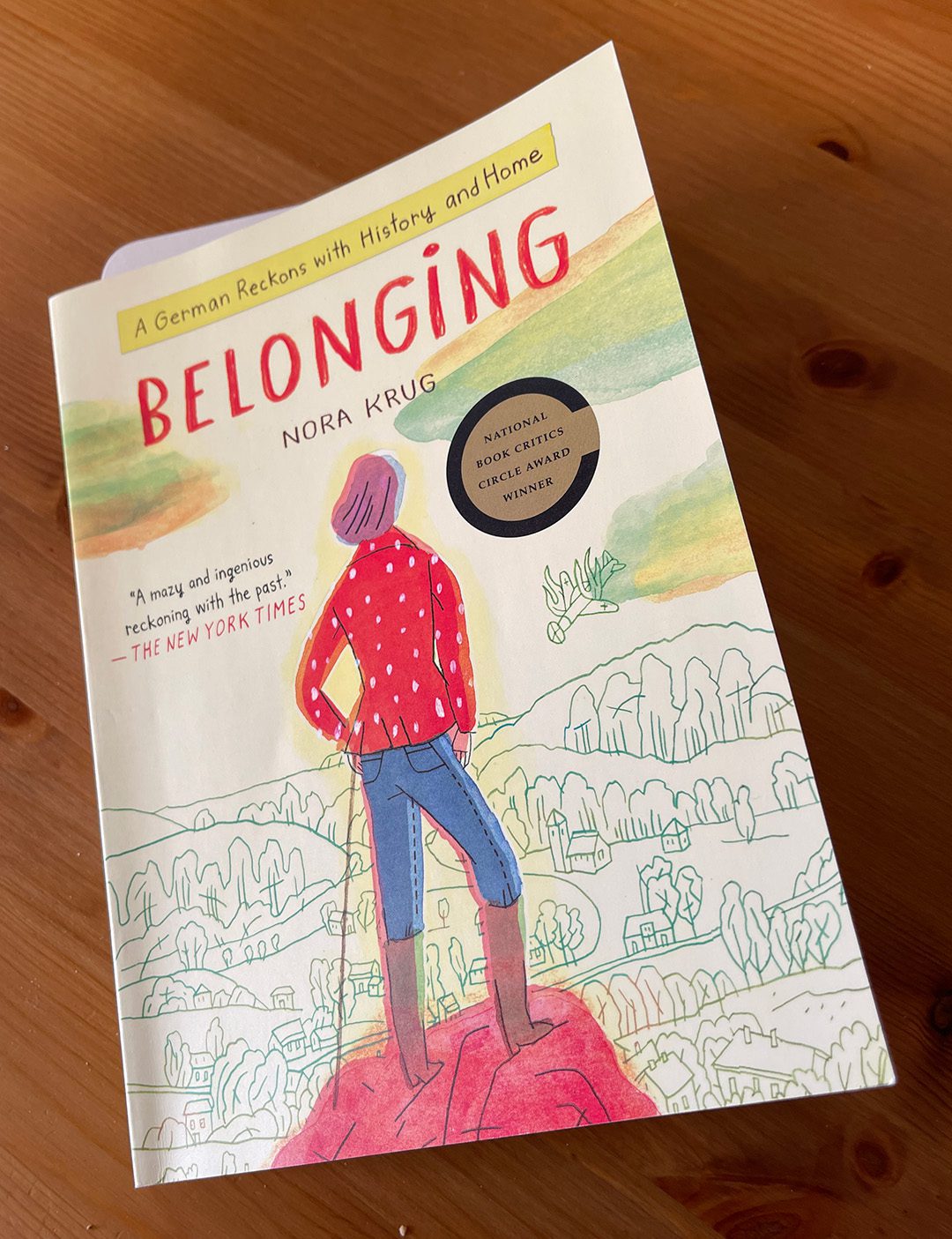 Belonging. A German Reckons with History and Home
I am engrossed by the cover of her book, looking at each detail, searching for meaning.
The bright colors, sunshine, green hills, villages, trees in the background and the red haired young woman, looking out from a hill with her back to the viewer. And then the ominous, tiny airplane in flames.
There are no numbers on the pages. In the section titled, Heimat, which is also the title of the German edition of the book, there is another drawing.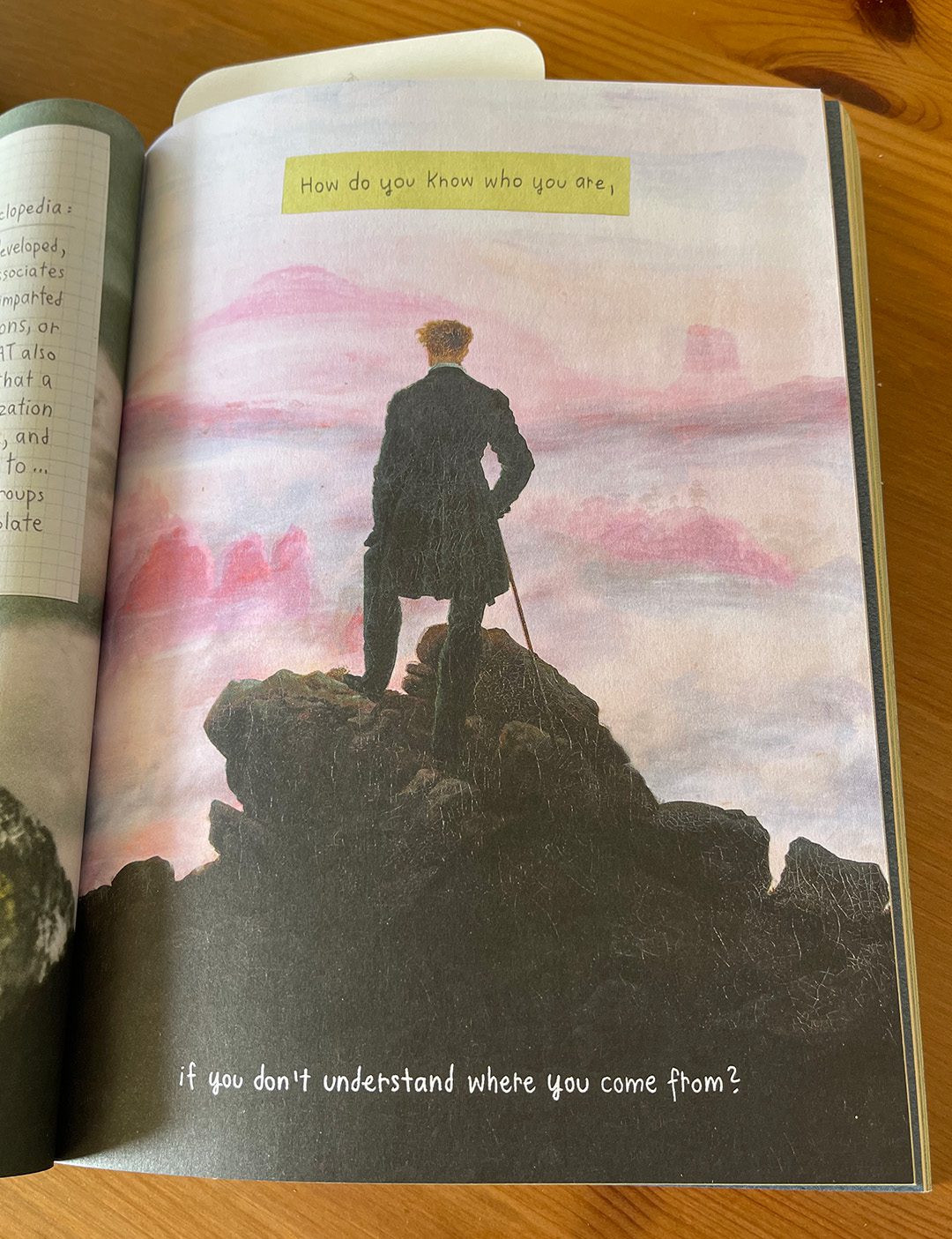 How do you know who you are, if you don't understand where you come from?
Nora Krug reproduces a red haired figure standing on a  a mountain top, a man with his back to us, gazing out on misty hills. The original was painted in 1818 by the German romantic artist Caspar David Friedrich.
His paintings were popular but shadowed by the enthusiastic embrace of National Socialists in the early 1930's.
The juxtaposition of the two figures, one substantial, clear eyed looking at her homeland and the other hovering between reality and illusion and her added words about engaging with our past to understand our personhood speaks to me, as I seek to know who I am.
Thank you Nora Krug for your  creative, honest, respectful search for a true understanding of your family's German past. 
As I engage with your story and look back on my meager collection of old photos and scattered, Jewish, childhood memories you encourage me to embrace my German friends with compassion.