Hanna Zack Miley holding her autobiography, A Garland For Ashes
The theme for Holocaust Memorial Day, January 27, 2022 marking the liberation of Auschwitz-Birkenau, is One Day. 
Yesterday, 13th January, Amy Williams invited me to join historian, Professor Bill Niven and Smajo Bešo, architect and former Bosnian child  refugee to share our stories via Zoom with her 80 students for the conclusion of their "Holocaust in History and Memory" study at Nottingham Trent University, UK.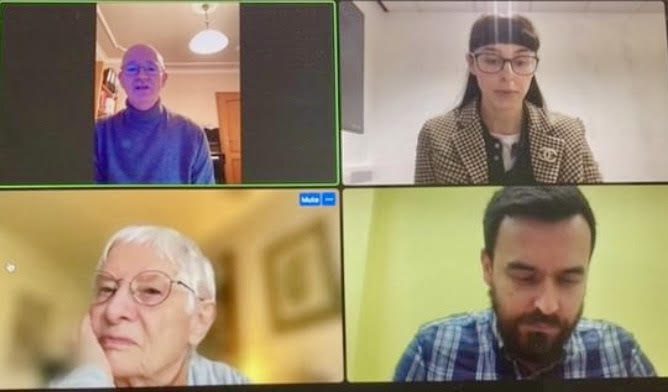 The students have been deeply engaged with the Holocaust and Genocide and as a final assignment they have created posters expressing their academic and personal response.
As I prepared for our Zoom call the theme, One Day, took me back to July 24, 1939 the day I received my parents' last embrace.
 I will never forget yesterday's encounter. We met virtually by Zoom, we came together from the UK, Germany and USA but we came so close, we touched hearts, Amy, Bill, Smajo, 80 students and me.
This morning I opened an email titled "A Message of Gratitude". from Leah Douthwaite, she is one of the 80 students.
She writes:
Your book has helped me academically with the creation of my group's Holocaust Memorial Day poster…

What struck me most about your story was the emotional journey I went through whilst reading. As a history student I have studied a lot of people, but your story really had an impact on me.

At first, reading your story, I felt guilty because of how personal the details were. 

Then I felt sorrow for you and the trauma you endured, your loss of identity and of your family. 

Then I felt gratitude for your strength in telling your story…..Showing the courage to relive something so difficult.

So thank you for giving the world a window into your soul and your journey and an opportunity to learn.

Lastly this was the thing that really made me connect with your story, I have a daughter who is seven now. To think that at her age you went through such a traumatic experience is utterly heart-breaking.

For me to even consider what your parents must have felt, I have no words that do justice to that feeling. They must have been brave. I am so sorry for what happened to Markus and Amalie Zack.

Yours sincerely,

Leah Douthwaite
What encouragement as I mark Holocaust Memorial Day 2022 by highlighting "A Garland for Ashes" with a special offer to new readers and an opportunity for giving the book to friends by those familiar with the story.