A Documentary Update From George & Hanna
To all who have given toward the documentary film on Hanna's life:
Dear Friends,
We write again to say "Thank you!" for your donation toward the  documentary film on Hanna's life, and to share with you an update on the project. Our director Corey Gilmore, along with the film team (Micah Dailey, producer and sound supervisor; Katie Gilmore, producer; Janie Dailey, film score composer; Ryan Thurman and Thomas Cogdell, logistics; and Hanna and George), have been hard at work.
Since last summer the team has been meeting, often weekly, to pray, plan, and invest in relationships. Corey and Micah have begun to film here in Phoenix. Hanna has been the obvious subject, although there have been others. A British PhD Holocaust historian was in town and consented to be interviewed. Already there are four people with PhDs in history who are providing historical perspective. 
Then in October the team spent two weeks in Germany filming Hanna in all the major places of her German life: Bonn, the city of her birth; Gemünd, where she and her parents lived; Cologne, where the family lived after Crystal Night and from which Hanna escaped in 1939 to England on the KinderTransport; and Guldental, the home village of Hanna's mother.
Corey and his wife Katie so believe in this project that he originally donated his professional time and expertise in 2022 free of charge. This was a major reason we originally thought we could complete the project on a significantly paired down budget of $50,000.
But we were wrong. What happened?
The Lord continues to expand the project. The film team keeps learning more about the breadth and depth of the relationships which belong to Hanna's story. We have already filmed more than twelve interviews with more to come, resulting in several hours of usable footage that will be available for the final documentary. New opportunities keep arising. One example: Hanna was asked to speak to the Arizona House of Representatives during their opening session. Corey and Micah were able to film the whole event and now this is now available for inclusion in the documentary. In case you were unable to see this, here is the link: https://www.youtube.com/watch?v=Jj2pxZqHpuY
From being a relatively short film, we now envision a full length, 90 to 120 minute documentary, with color correction and professional sound mixing, making it acceptable to all distribution channels. There is no way Corey could have done all this in his spare time. The Lord has made it possible for him to come on staff with us during 2023 in a salaried position to give himself full time to this work. Another filming trip is being planned––this time including England and Poland––to film locations of Hanna's life after her arrival in England, and then capture scenes in the Lodz ghetto in Poland where Hanna's parents spent their last months. We will also film in the Nazi extermination center of Chelmno where the lives of Markus and Amalie Zack were taken from them.
All this will require an expanded budget. We will probably need $175,000 to $200,000 to complete the work, of which, through your generosity, more than $50,000 has already been received––so we are between 25% and 33% of the way there. We are approaching funding sources which are able to fund this kind of project, but larger grants typically take months to be approved and funded. Meanwhile the gifts of friends and prayer partners keep us moving forward.
Corey and Micah are filming Hanna once a week, allowing her to go deep into her earliest memories of childhood in Germany, her dramatic escape 5 weeks before the outbreak of WWII, her growing up years in England, and her journey to faith in Jesus as her Jewish Messiah. It is he who is the author of the ministry of reconciliation.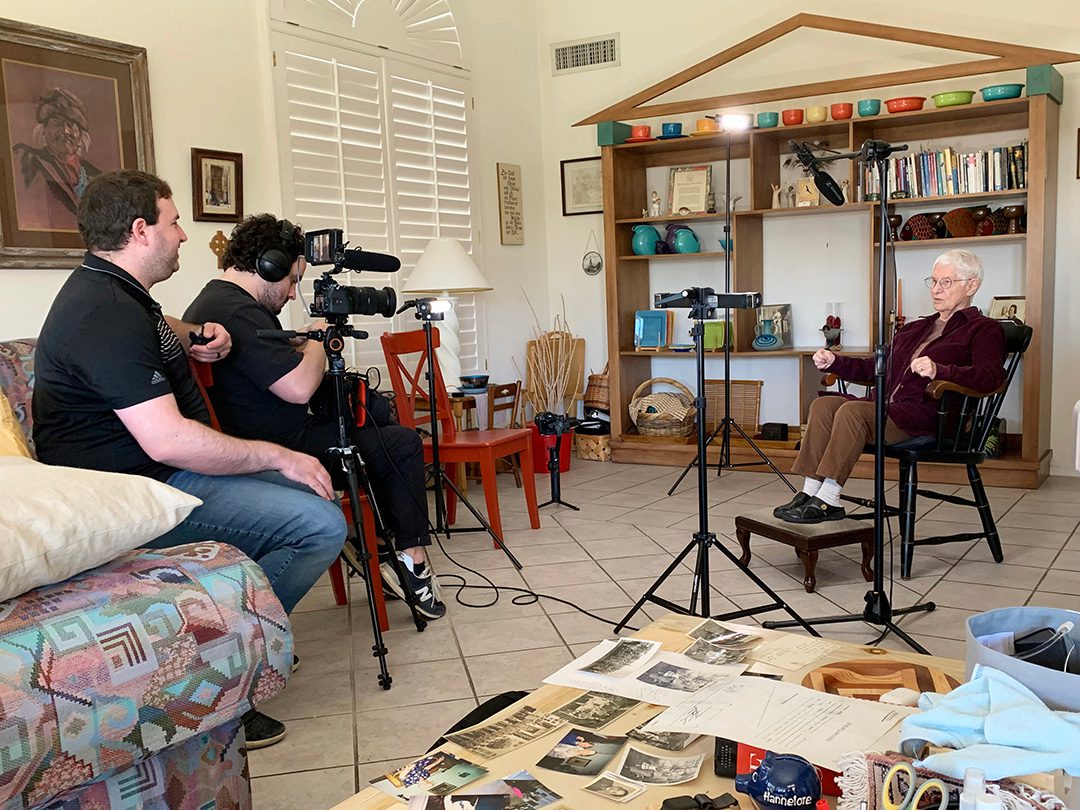 Corey and Micah filming Hanna in our home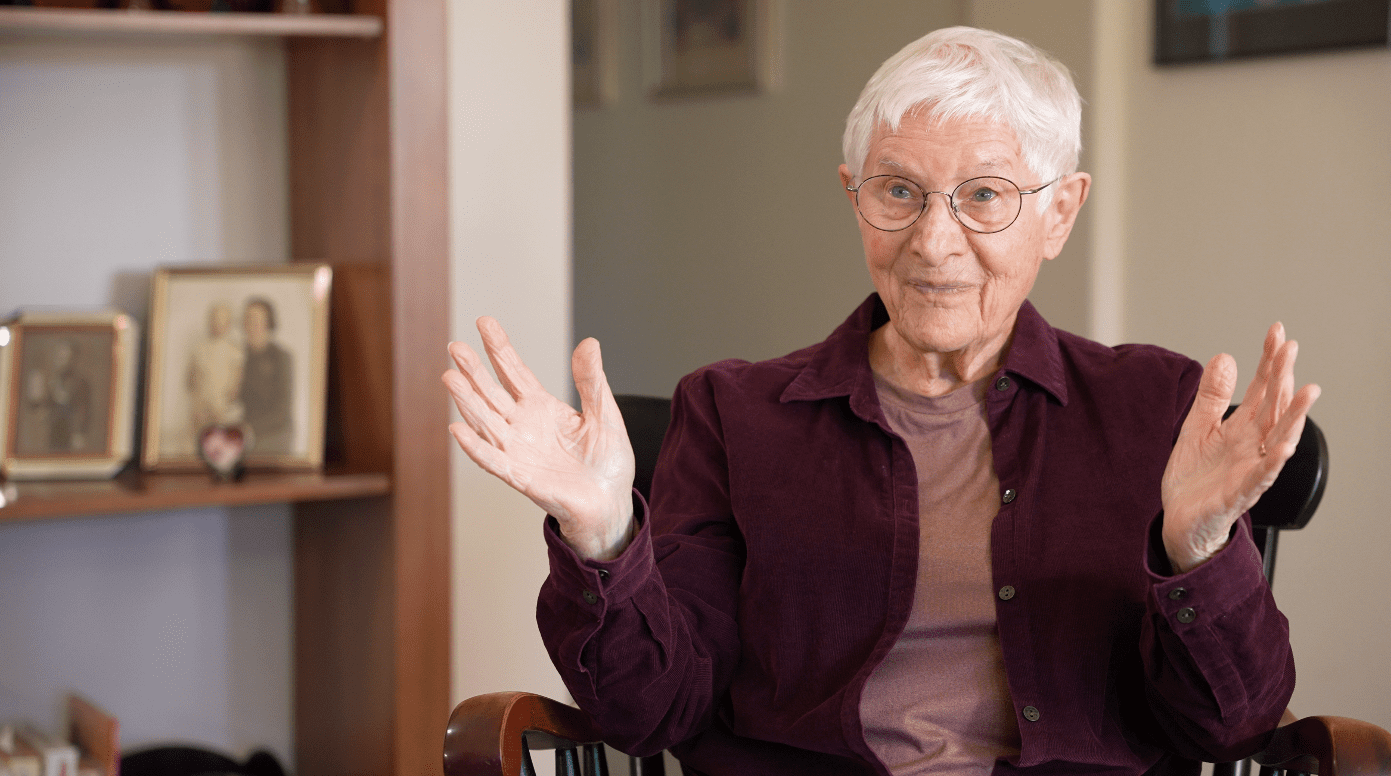 Hanna speaking on the film
Realistically we expect the finished product not to be available before 2024. Once all the filming and editing is done, there will remain post-production work with editing color and sound.
We wanted each of you to know personally from us as to where this project now stands. We have a deep sense that this is something to which God has called us. We don't want to hurry unnecessarily and end up with an inferior product. But Hanna has just celebrated her 91st birthday, so we need to move forward with intentionality.
The purpose of this note is not fund-raising, but to report to you who were part of the launching of this project. However, if you would like to join with us to see the film completed, gifts may be received here:
In US dollars: https://www.aplos.com/aws/give/AntiochNetworkInc/HannaZMdocumentary
In euros: https://www.paypal.c`1om/donate/?hosted_button_id=7GB8HM4GSRFE4 and select "Hanna Zack Miley Film Doku" from the dropdown menu
As we come to mind, pray for us. We are dependent on the Lord in all things.
With much love and thanksgiving,
Hanna and George